Keke Rosberg's Williams FW08C F1 car is Thruxton-bound for 50th Anniversary Celebration (Sat 2 - Sun 3 June 2018). Williams Heritage are preparing the car to tackle Britain's fastest circuit as part of this family-friendly festival, set to thrill young and old alike in June.
The FW08C was Williams F1's car for the 1983 Formula 1 World Championship and was raced by Keke Rosberg. Williams Heritage are preparing an FW08C to run in anger as part of Thruxton Circuit's eagerly-anticipated 50th Anniversary Celebration this spring.
On Track
Thruxton's 50th Anniversary Celebration will take place over the weekend of Saturday 2 - Sunday 3 June 2018. The first motorsport event to be held at the venue in its current guise was on Easter Monday, 1968 and half-a-century on, a whole host of single-seaters, sportscars and saloons from the last five decades will hit the track for two days of racing action. Confirmed to race of the two days are:
Historic Touring Car Challenge/Tony Dron Trophy
Royal Automobile Club Woodcote Trophy/Stirling Moss Trophy
HSCC Guards Trophy Sports & GT Cars
HSCC Historic Formula Ford 1600
HSCC Super Touring Cars
HSCC Libre - HF2, CF3, FF2000 etc
M7RC Mini Se7en
M7RC Mini Miglia
Williams FW08C
With its 540kg aluminium honeycomb chassis powered by a three-litre Ford Cosworth DFV V8 engine punching out 530bhp and a six-speed gearbox, the Williams FW08C will both look and sound phenomenal as it scorches around Thruxton's flat-out sweepers in the hands of a yet-to-be-confirmed high-profile driver. The last time an F1 car was driven at Thruxton in anger was all the way back in 1993, when Damon Hill averaged an eye-watering 147.25mph in the title-winning Williams FW15C.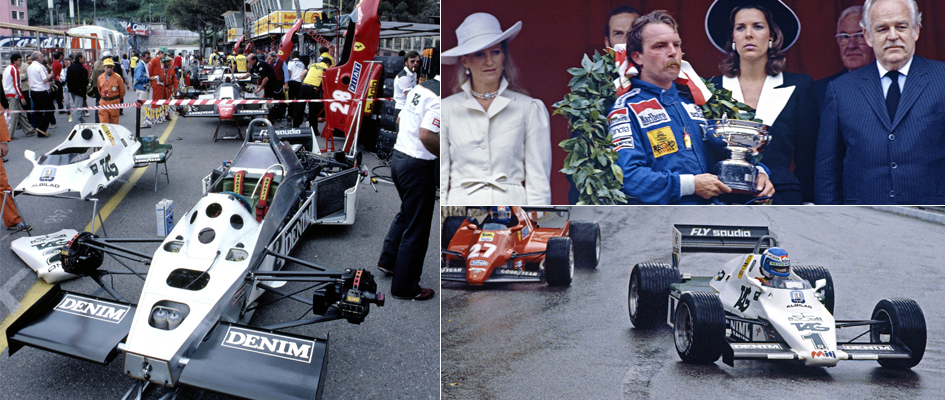 "We are thrilled to be able to confirm the attendance of the Williams FW08C for a high-speed demo run at our 50th Anniversary Celebration," enthused Thruxton Group Managing Director, Bill Coombs. _"We are grateful to Williams Heritage for agreeing to supply the car.
"I have no doubt that the FW08C will make for a quite incredible spectacle in June. It is what I would call a 'proper' F1 car – with its screeching V8 engine and wide rear tyres – and it will surely bring back many evocative memories for those like me who were lucky enough to have witnessed it competing during its heyday. This really will be very special indeed.
"Best of all, this is only the first of several exciting announcements we have in the pipeline for our 50th Anniversary Celebration, so stay tuned to find out what else we have in store for an event that promises to be a race meeting with a difference and much, much more besides."
Rosberg was the reigning Formula 1 World Champion in 1983, and the moustachioed Finn remained a major player as the complexion of the sport began to change with the advent of the legendary turbo era. Although the FW08C's ageing, naturally-aspirated Cosworth powerplant was at a disadvantage around some circuits, at the higher-downforce tracks, it truly came into its own and Rosberg was the architect of a superbly-judged wet/dry victory in Monte-Carlo that year.
He went on to finish fifth in the world championship standings, with the additional points scored by French team-mate Jacques Laffite securing Williams fourth spot in the constructors' classification.
The FW08C is now part of the esteemed Williams Heritage portfolio, which was created in 2014 to manage the British outfit's collection of historic Formula 1 cars. It is headed up by Jonathan Williams and run by long-time former Williams mechanic and team manager Dickie Stanford.
Since the team's debut in the top flight back in 1978, Williams cars have won 114 grands prix and no fewer than 16 world championships.
The FW08C will run on both days of the 50th Anniversary Celebration as part of a dedicated session on track.
Off Track
Away from the track action, there will be a raft of eye-catching demo runs and static displays, car club reunions and a smattering of famous faces, as well as a funfair, live music, circuit rides, overnight camping and a fireworks display in evidence of the festival's family-friendly appeal.
The new Hospitality Centre will also be officially opened by a major motorsport celebrity, more info coming soon.
Advance tickets for the 50th Anniversary Celebration are available from just £12 for Saturday entry and £15 for Sunday – or £24 for both days. Sunday grandstand seats are an additional £5. Accompanied children aged 15 and under will be admitted free of charge.
For further information or to buy tickets, visit the event page or call 01264 882200 and select Option 1.