Corporate Events, Hospitality & Venue Hire
Corporate Events, Hospitality & Venue Hire
Corporate Events
We've been operating corporate driving events at Thruxton for over 35 years. Our in-house events team will work with you to ensure your event is tailored to suit your specific needs. We offer a compelling choice of driving based activities combined with first-class hospitality, expert instruction and modern facilities. We'll ensure your guests experience a unique event that will be remembered for a long time to come.
We offer bespoke packages, please get in touch to discuss your event with us
Circuit Driving Experiences
Drive a range of supercars, sports cars and racing cars. Guests can experience supercars from Ferrari, Aston Martin, McLaren, Porsche, Jaguar and Lotus plus single seat racing cars, all on the UK's fastest race circuit in the UK. The fast sweeping corners at Thruxton allow guests to really experience the performance of each car.
Guests will receive expert tuition from our team of professional race instructors. We also have a number of passenger ride cars available for a white knuckle ride they'll never forget. Including laps with Tiff Needell at the wheel of the nee BMW M4.

Skid Pan Facility
In a safe and controlled environment guests will develop the skills needed to correct and control a sliding car, a situation you may encounter on the public roads. Not only is this great fun, but also a worthwhile investment in your own and your passengers' safety.
Unlike many venues, we use modern front and rear wheel drive cars so that guests understand and feel how the electronic safety systems, fitted as standard to most cars, will help in adverse conditions. The systems are also switched off - relying on pure driver skill.

Kart Centre
Thruxton Kart Centre is the UK's premier outdoor karting venue and the closest thing to racing without a race licence. With different circuit configurations, banked corners, crossover sections, 60mph race karts and digital live timing, guests are guaranteed to enjoy themselves.
Guests will be given all the equipment they need; race suit, helmet, gloves, balaclava. A though briefing from the pros on site. Then it's time to put the visor down and head out on track. This is actual racing and there's nothing like it!

4x4 Off-Road Centre
Bring the speed right down at the 4x4 Off-Road Centre. Guests will drive Land Rovers on our purpose built 4x4 facility. It's designed to push you and the Land Rover to the limit.
Driving a 4x4 in the environment it was designed, requires a different skill compared to all our other activities; patience, caution and controlled aggression are needed as you test both the Defender and your own nerve. You will be amazed at what a Land Rover will do.

We offer a bespoke service as each customer and event is different. Call our office on 01264 882222 to discuss your specific requirements or email us here.
Hospitality Buildings
A number of Hospitality buildings, suites and rooms are available for hire located around the venue. Each offer a unique setting for an important meeting, product launch, conference, exhibition or presentation. Facilities include AV equipment, wifi, large screens, audio systems and projectors. Bespoke seating arrangements and menu options are also available.
Thruxton Centre
The new Thruxton Centre is a 1415 m2, state of the art hospitality facility comprising of conference and function rooms as well as a host of hospitality suites, a restaurant, bar, exhibition space and first class catering facilities. A first floor terrace and balcony provides a bird's eye view of all the first corner action and views across the venue, offering guests a truly unique experience.
The Thruxton Centre is the perfect hub from which to base your event. The building is available for hire on it's own - exclusively or by room/suite - or can be combined with any of our driving activities. The Thruxton Centre is also available for hire for race meetings, including the BTCC and BSB.


Find out more about the Thruxton Centre
Thruxton Pavilion
The Pavilion is located in the paddock, next to the Thruxton Centre. A large, open, adaptable space ideal for hosting large numbers of guests. The internal space is a blank canvas and can easily be branded to suit your needs. The building features large access doors allowing vehicles of all shapes and sizes to be positioned inside. The building also has dedicated catering facilities.
Thruxton Pavilion PDF Brochure
Trackside Hospitality Suites
Ten individual suites located adjacent to the start/finish straight, opposite race control. Available for hire on race meetings including BTCC and BSB. Also available throughout the year for private or corporate events and track days. Additionally garden furniture is available for use on the paved and grassed areas in front of the suites.

Skid Pan Building
A modern building overlooking the low grip driving facility. Bi-fold doors open up one side of the building, allowing for vehicles to be installed inside. High-speed wifi, AV equipment and key catering facilities are also available.


Kart Centre Building
A flexible hospitality space. Standard configuration features three rooms which can be used for meetings or briefings. Bi-fold walls allow each room to be combined in to one large space suitable for a product launch or conference. Full catering facilities are on site plus high speed wifi and AV equipment.

Media Centre Building
Located in the centre of the circuit, next to race control and the paddock. The media centre is ideal for presentations, meetings and conferences.
Race Day Hospitality
Build and strengthen business relationships whilst immersed in the atmosphere and excitement of the fastest race circuit in the UK. Thruxton hosts some of the most prestigious motorsport events in the UK, including British Touring Cars, British Superbikes and Truck racing, guaranteeing an unforgettable experience for you and your guests. Enjoy the best wheel-to-wheel motor racing from one of our hospitality suites. We can accommodate large and small groups and will tailor a package to suit your individual needs.
Whatever your budget or requirements, race day hospitality can be an effective way of treating customers, staff or a special someone to something memorable.
Contact our hospitality team on 01264 882222 to discuss your requirements or email us here.

Hire Thruxton
Thruxton is a venue like no other. Bringing your guests to the UK's fastest race circuit is guaranteed to grab their attention and increase the take up rate of your invitees.
You'll be well looked after, as we have more than three decades' experience in running and hosting events - large and small - and we can deal with any requirement. You simply tell us what you need, then leave the rest to us.
Circuit Hire
The famous 2.4 mile circuit is available to hire for private events, track days, product development and product demonstrations. Thruxton is the fastest race circuit in the UK and features a range of high and low speed corners.

Paddock Hire
Two large paddock areas are situated behind the pit garages and are available to hire individually or as a whole.
Manufacturer Events
Thruxton Motorsport Centre has been involved with numerous motor manufactures over the last 30 years helping them launch, promote and sell their cars to different audiences at all the UK's major race tracks and test facilities. We have even taken them into Europe on a few occasions as well.
Our involvement ranges from supplying instructors to a manufacturer to organising and booking a multi-day events across major race circuits and everything in between.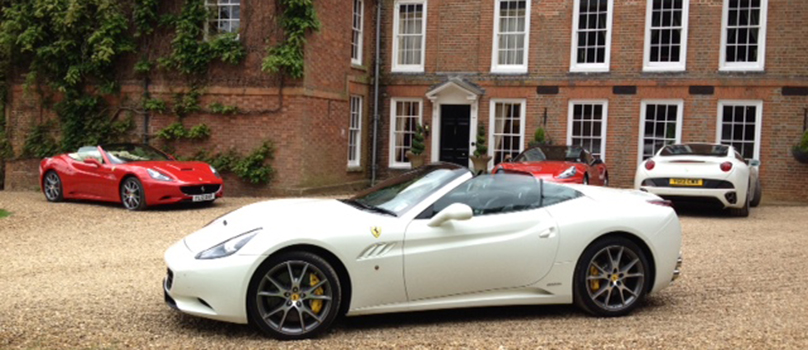 BMW was our first client and we are very proud to say that we still supply our services to them. As well as BMW we also currently offer services to MINI, Ferrari, Maserati and Vauxhall. Other names over the years have included Porsche, Ford, Honda, Jaguar, Nissan, Alfa Romeo and Lancia, Rover and MG Rover all the way from 1986 to 2005.
If you want to benefit from over 30 years of manufacturer driving event experience or just want to book a team of licenced instructors then please get in touch.
We offer a bespoke service as each customer is different. Call our office on 01264 882222 to discuss your specific requirements or email us here.