TRADE SITES, CIRCUIT ADVERTISING & SPONSORSHIP
Race meetings at Thruxton are incredibly diverse with a selection of events covering all aspects of Motorsport visiting each season. Fans can enjoy both two and four-wheel racing action from the latest cars, bikes and trucks through to classic car racing.
Each race meeting offers the opportunity to present your brand and products to a passionate and captivated audience. Trade sites are focused near the main entrance and grandstands where footfall is at its highest.
Trade Site Locations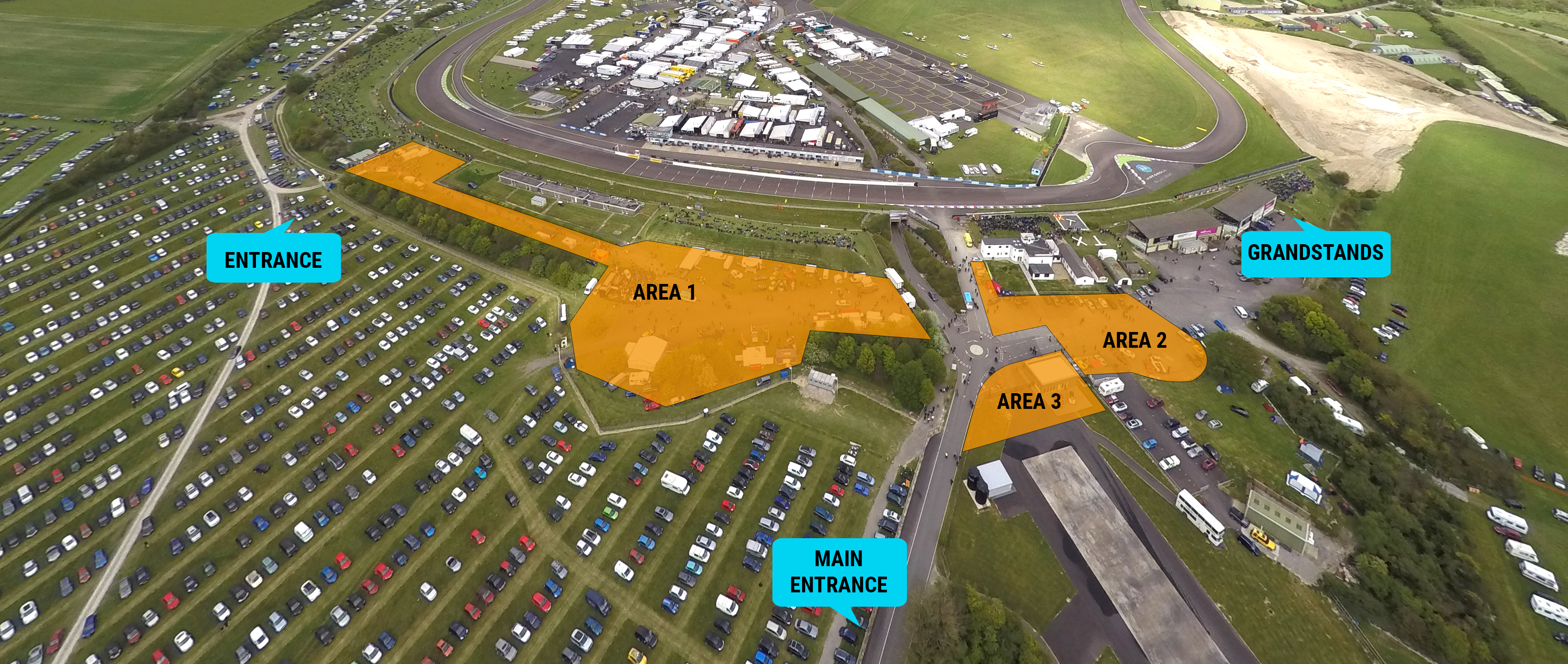 Area 1
Wide ranging choice of pitch sizes available. Located opposite the start and finish straight and continues adjacent to the circuit as far as the first corner. Footfall is heavy throughout a race meeting.
Area 2
Located between the pedestrian tunnel and the grandstands. Footfall is constant throughout a race meeting and especially heavy in-between races.
Pricing (Area 1 & 2)
Trade stand space is available at a cost of £140.00+vat per linear metre (frontage) based on a depth not exceeding 6 metres.
£120.00+vat for all bookings taken between January-March based on our standard 30 day terms for the upcoming season
Includes space behind or adjacent for a large van, two trade staff passes to allow entry to the circuit (there is no entry to the circuit or trade area without a valid trade pass or entry ticket) and one vehicle pass. Additional tickets/passes are available at a discounted trade rate.
We have deeper pitches available which are priced individually.
Area 3 - Skid Pan Hospitality Building
Available to hire for the BTCC, BSB and Truck Race Meetings. The building can be set up as a pop showroom to present your brand, products or host guests. There is space inside for two large vehicles, a number motorcycles or other products and plenty of space for point of sale. Outside, there's additional space for up to eight vehicles.
The building is self-contained in a prime location and can be set up and rebranded to suit your needs. All the facilities you would expect are available, including; wifi, large screen TV, tables and chairs plus drinks machine, kitchenette and toilet facilities. The building is also cleaned daily.
The building is available for the BTCC, BSB and British Truck race meetings based on Friday-Sunday occupancy - £3000.00+vat.
Case Study - BMW
BMW UK rebranded the Skid Pan building as part of a larger event for employees and their families. The building was used as a base for guests to experience their xDrive range of vehicles on the Skid Pan but primarily to show off the new BMW i8 which was being shown for the first time.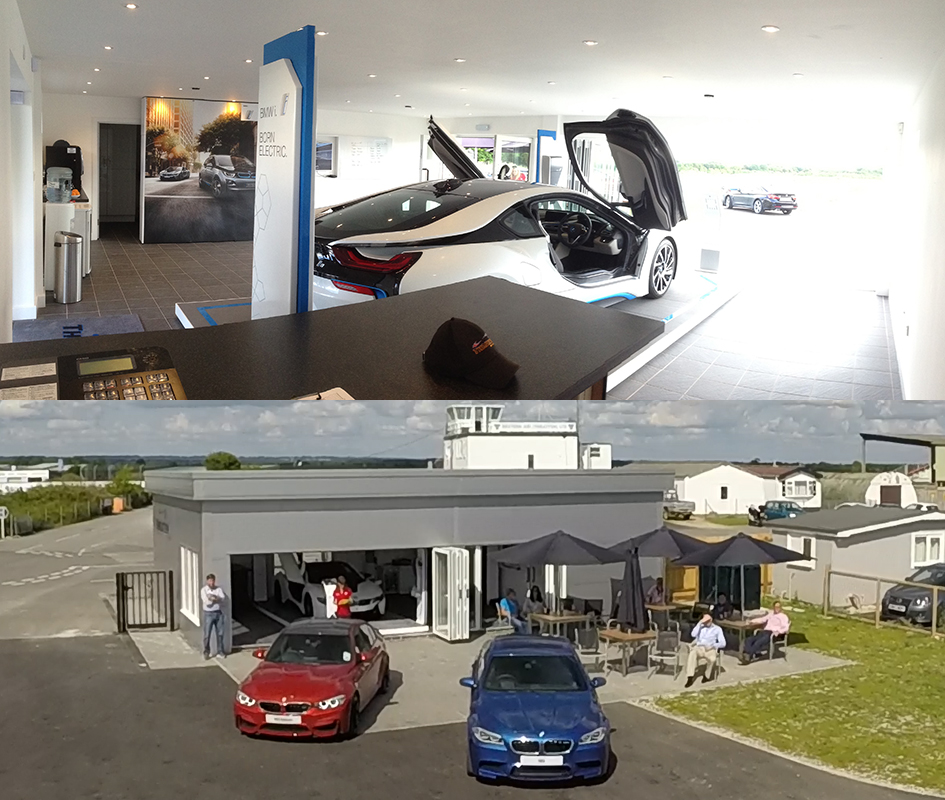 Contact our team to discuss your requirements: Telephone 01264 774921 or email lorne@thruxtonracing.co.uk
Put your brand, product or service in front of a captivated audience. From advertising banners to large hoardings on buildings around the circuit. We're able to tailor a package to suit your objectives and budget.
Crowd Facing Locations
We have a number of crowd facing locations available around the Circuit to advertise your business. Prices start from £299 + VAT for a 1m x 3mm banner. We can also arrange banner design and production for an additional cost.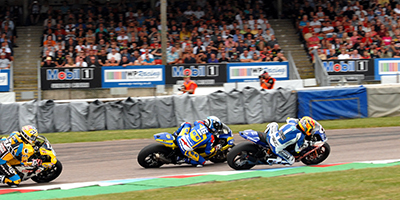 Prime Locations
We have three prime locations available on three season contracts.
Winners Rostrum and Race Control
Located next to each other, they stand higher than all surrounding buildings, ensuring your message stands out.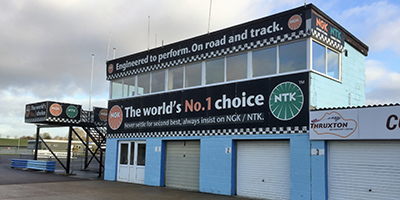 Chicane Advertising Hoarding
Directly opposite and facing the grandstands and spectator banks. 1 metre x 30 metre hoarding. Available as a whole or five metre lengths.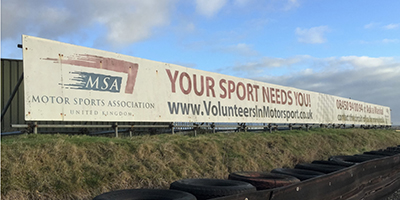 Chicane Run-Off Tarmac
A unique advertising opportunity. Previously used by a telecoms company. 25m x 25m x 25m triangular ground painted space.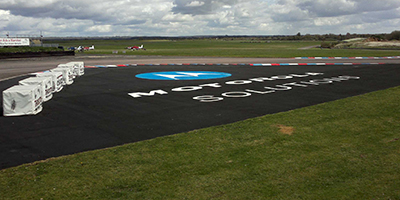 Contact Lorne Mitchener to discuss advertising opportunities: Telephone 01264 774921 or email lorne@thruxtonracing.co.uk
Thruxton is the fastest circuit in the UK and one of the most iconic in the world. Every year thousands of people visit Thruxton to experience race meetings, driving experiences, karting, skid pan, 4x4 off-road driving and corporate hospitality, all with the excitement, speed and glamour only a race circuit can create.
Key Facts and Figures
Thruxton is the Fastest Circuit in the UK.

Centrally located in the UK. 1 hour from London.

Over 150,000 people visit Thruxton each year.

Over 25,000 followers across social media channels.

Over 70,000 active subscribers to our newsletters.
We have years of experience working with brands and businesses looking to raise their profile to set themselves apart from the competition. Working together, we'll ensure your business benefits from the wide ranging audience who come to Thruxton each year. Get in touch with our team on 01264 774921 or email lorne@thruxtonracing.co.uk.