A Venue For Any Occasion
The Thruxton Centre is a 1415 m2, modern, purpose-built, conference and meeting facility located within Thruxton Circuit. Capable of hosting meetings, conferences, product launches and race day hospitality, all with first class catering to your taste.
The Hospitality Centre comprises multiple function and conference rooms as well as a host of hospitality suites, a restaurant and bar.

On the first floor, a terrace and balcony providing a bird's eye view of all the track action and views across the venue will offer guests a unique experience.
Exhibitions and Product Launches
The Thruxton Hospitality Centre offers over 1415 m2 of floor space for exhibitions and product launches, whilst the main circuit, paddock, 4x4 and skid pan can be hired for live demonstrations. The outside space surrounding the Hospitality Centre can be used for additional exhibitions, outside catering and provide car parking for guests.
Meeting Rooms
The Hospitality Centre offers flexible space able to accommodate all conference and meeting room set ups with the opportunity for breakout sessions and multiple room events. Cutting-edge audio-visual equipment, Wi-Fi, numerous catering options are all available in the prestigious surrounds of Thruxton Race Circuit.

Conferences
Whether you're organising a three-day convention or an afternoon session for a small team, the Hospitality Centre offers a range of suitable options.
Catering
The Hospitality Centre has been engineered to offer guests a comfortable environment and catering to the highest standard. Capable of hosting over 400 guests over two floors. Our professional on-site catering team work with customers to prepare and deliver menus for any occasion. Catering is prepared on site and hosted by our experienced team.

Get In Touch
The Hospitality Centre can be hired exclusively or by the room/suite. With prices starting from £250 + VAT. Every customer and event is unique. Our on-site events team will work with you so that we meet your budget needs and deliver an outstanding and memorable event. Please get in touch to discuss your requirements and ideas - 01264 774 921 or email us
Ground Floor
Entrance lobby
A grand atrium entrance lobby greets guests when they walk in to the Thruxton Centre. Located on the ground floor is the main restaurant and bar which turns in to 330 m2 of exhibition space. Also located on the ground floor are two class rooms, lift access to the first floor, toilets, including disabled toilets. Plus, kitchen and service areas.

Restaurant & Exhibition Space - 330 m2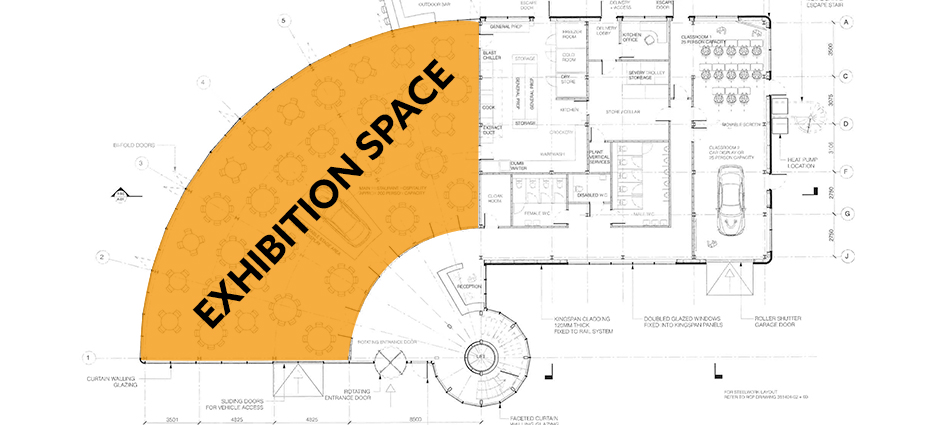 Classroom One - 41 m2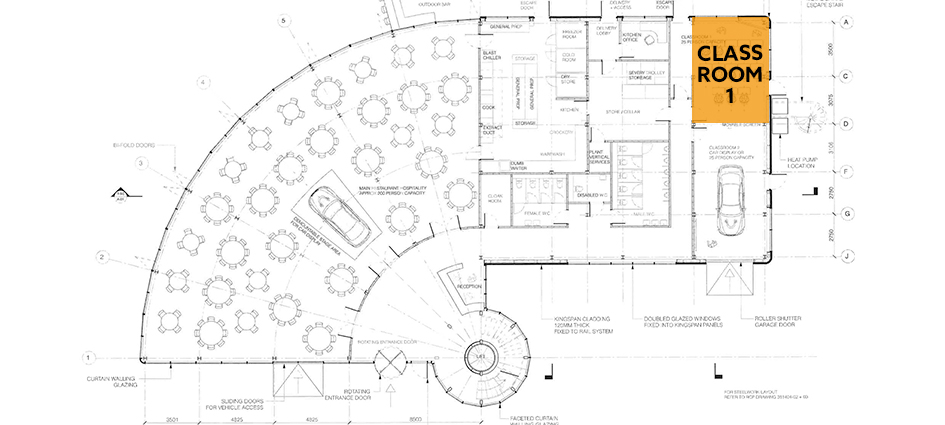 Classroom Two - 46 m2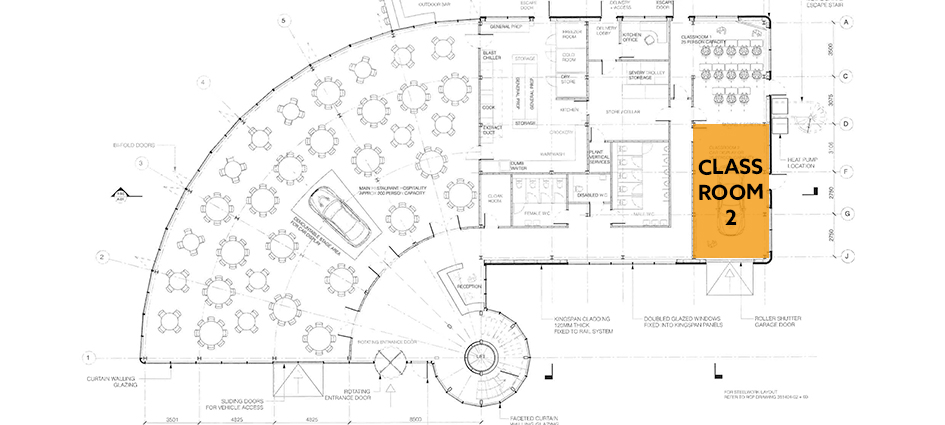 First Floor
The first floor of the Hospitality Centre offers stunning views of the race circuit and the rest of the venue. Located on the first floor are three separate hospitality suites, each with 45 m2 of floor space. These can be combined in to one large suite with 135 m2 of usable floor space. Step outside on to the viewing terrace and balcony with unrivalled views. Also located on the first floor are toilet facilities, including disabled toilets, flexible event space and private meeting rooms. Plus, catering services areas.

Hospitality Suite 1 - 45 m2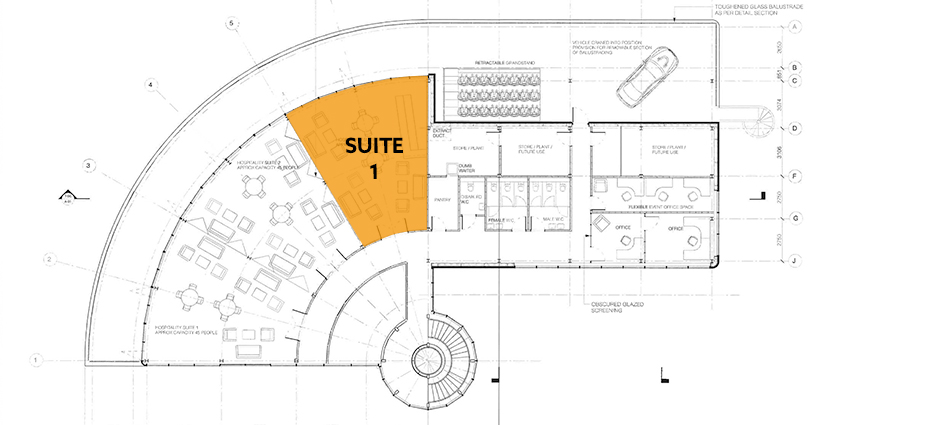 Hospitality Suite 2 - 45 m2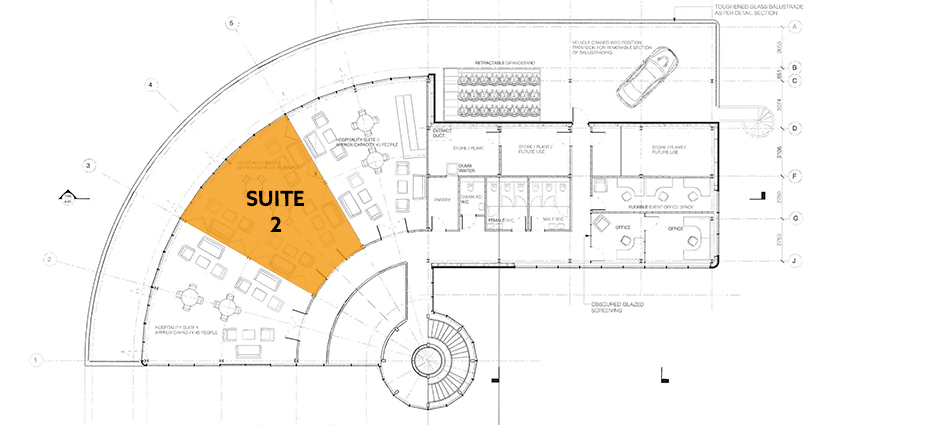 Hospitality Suite 3 - 45 m2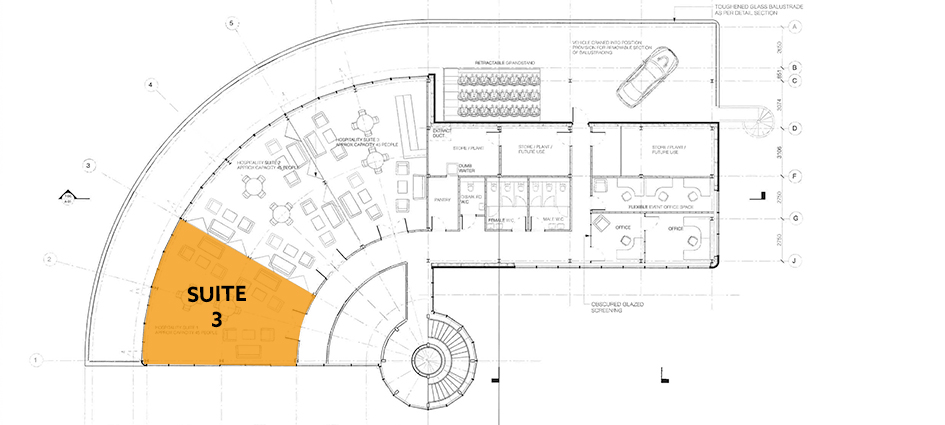 Viewing Terrace - 250 m2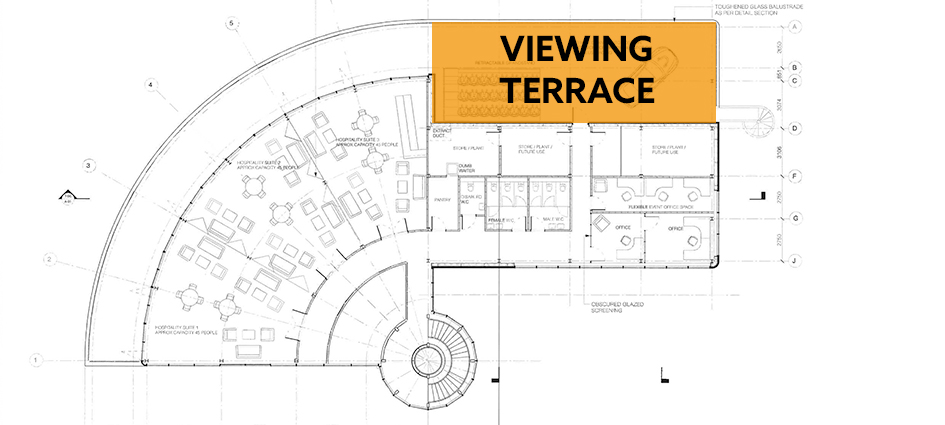 Balcony - 250 m2