Trade Sites & Circuit Advertising
Trade and Promotion Sites
Put your products in front of an active audience. Each season thousands of Motorsport Fans visit the UK's Fastest Race Circuit to watch and enjoy the high-speed racing that makes Thruxton Circuit famous.
Our audience is incredibly diverse. Ranging from the young and old to groups of friends and families, all enjoying the atmosphere only a Race Meeting can generate.
Showcase your products in front of these dedicated fans, enjoying their passion for sport, in an exciting and positive environment.
We offer a range of trade and promotion sites at all our Race Meetings. Get in touch with our dedicated team who will discuss your requirements and tailor a package to suit: Telephone 01264 774921 or email lorne@thruxtonracing.co.uk
2017 Calendar
Classic Sports Car Club
Sat 22 - Sun 23 April
British Touring Car Championship (BTCC)
Sat 6 - Sun 7 May
British Trucks
Sat 3 - Sun 4 June
British Superbike Championship (BSB)
Fri 4 - Sun 6 August
750 Motor Club
Sat 26 August
British Automobile Racing Club (BARC)
Sat 2 - Sun 3 September
North Gloucester Road Racing Club (NGRRC)
Sat 7 October
Circuit Advertising
Crowd Facing Locations
We have a number of crowd facing locations available around the Circuit to advertise your business. Prices start from £299 + VAT for a 1m x 3mm banner. We can also arrange banner design and production for an additional cost.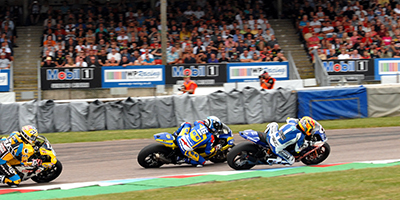 Prime Locations
We have three prime locations available on three season contracts.
Winners Rostrum and Race Control
Located next to each other, they stand higher than all surrounding buildings, ensuring your message stands out.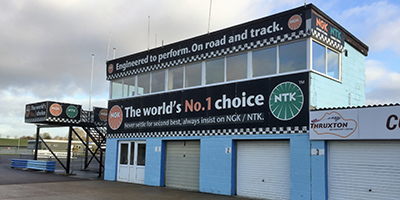 Chicane Advertising Hoarding
Directly opposite and facing the Grandstands and Spectator Banks. 1 metre x 30 metre hoarding. Available as a whole or five metre lengths.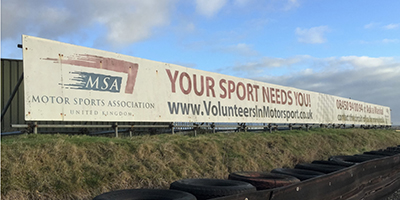 Chicane Run-Off Tarmac
A unique advertising opportunity. Previously used by a telecoms company. 25m x 25m x 25m triangular ground painted space.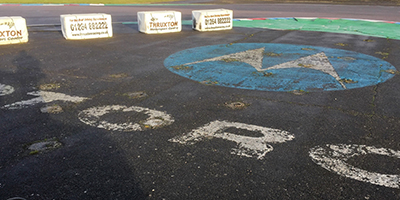 Contact Lorne Mitchener to discuss advertising opportunities: Telephone 01264 774921 or email lorne@thruxtonracing.co.uk